Jeff's Instant Correction
of My Backhand
"I've been playing this great game for 5 years, and have lost more matches than I should. The problem's been my backhand. I tried everything to correct it... but nothing worked."
"All that changed in my very first tennis lesson with my new Tennis Instructor, Jeff Spin. He transformed my backhand, and now I'm hitting with consistency, accuracy, & power."
"I highly recommend Jeff to anyone seriously trying to improve... His results are amazing!!"
Mr. Alex Dinu, NTRP 3.5
Andover, Massachusetts
Managing Partner - AEI
Tennis Northeast - League Player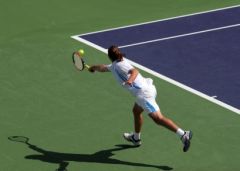 Jeff's Highly Superior
Teaching Ability
"Jeff's a born tennis teacher and coach."
"He conducts tennis lessons in a friendly, clear, and open way, and shows me new techniques that lead to successful strokes."
"I also appreciate that he explains why his methods work for you."
"Every time I meet with Jeff, I learn something new and have fun."
Ms. Nadia Savage, NTRP 2.8
Arlington, MA
Administrator - Mass College of Art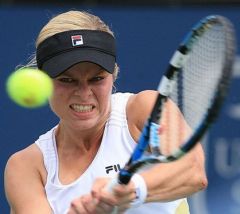 Jeff's Superior Ability to Communicate Clearly
"I'm really enjoying taking tennis instruction with Jeff Spin. In just a short time, he improved my game by focusing on form and technique."
"It's refreshing to work with a tennis coaching professional who really understands, and is able to convey, the technical aspects of an effective stroke."
"I already had good form, power, and spin before I met Jeff, but Jeff helped me take my game to the next level in record time."
Mr. Jeff Green, NTRP 4.2
Cambridge, MA
IT Manager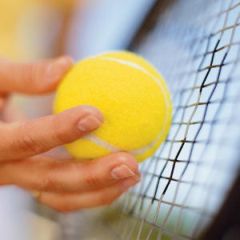 Jeff's Keen Skills in
"Error Detection & Correction"
"Jeff's made a huge difference in my game: He cured my backhand in only 15 minutes of my very first tennis lesson."
"With each meeting, Jeff challenges me, gives me new techniques that really work, and I progress rapidly."
"He has a special gift to quickly spot what I'm doing wrong and remedy it in minutes. His tennis instruction is simply the best. I strongly recommend him as a Tennis Teacher."
Ms. Geri Guardino, NTRP 3.2
Boston, MA
Executive Director – First Night Boston
MY SERVICE AREA

My students come from a wide variety of cities and towns in the Boston MetroWest Massachusetts area including:
Arlington MA, Arlington Heights, Bedford, Belmont, Belmont Hill, Billerica, Boston MA, Burlington, Cambridge MA, Carlisle, Chelsea, Concord, Concord Farms, E. Arlington, E. Boston, E. Cambridge, E. Watertown, Everett, Lexington, Lincoln, Lynn, Lynnfield, Malden, Medford, Melrose, N. Burlington, N. Cambridge, N. Waltham, N. Winchester, Newton, Newton Highlands, Peabody, Reading, Revere, Saugus, Somerville, Stoneham, S. Boston, S. Lincoln, S. Medford, S. Watertown, Wakefield, Wakefield Highlands, Waltham, Waltham Highlands, Watertown, Wayland, Wellesley, Wellesley Hills, W. Concord, W. Medford, W. Newton, W. Somerville, Waban, Weston, Weston Station, Wilmington, Winchester, Winchester Highlands, and Woburn, Massachusetts.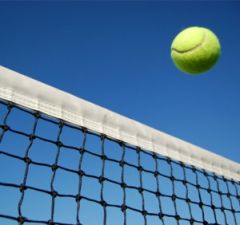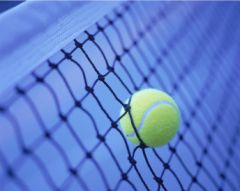 Jeff's Amazing Results
with Beginners
"I don't usually think of myself as being remarkably athletic."
"But, when a new friend suggested I take up tennis, I decided to give it a try. He referred me to Jeff Spin for tennis lessons."
"By the end of our very first tennis lesson, Jeff had me hitting fairly good topspin forehands. And, today, I continue to make great strides."
"For my money, Jeff's the best tennis coach Boston has to offer"
Mr. Rich McGowan, NTRP 2.0
Lexington, MA
Linguistics Researcher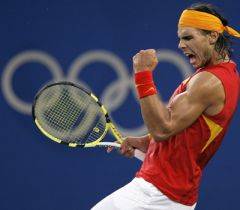 Jeff's Doubles Playing Ability
& Mastery of the Volley
"I've been playing tennis for 30 years now, but I shied away from playing Doubles because I wasn't real confident about my volley."
"This all changed a few years ago when I started taking tennis lessons from Jeff Spin."
"Not only is Jeff a terrific Doubles player, but his tennis coaching taught me how to volley correctly."
"Now Doubles is my favorite game."
Mr. James Igoe, NTRP 6.0
Cambridge, MA
Attorney-at-Law