QUALIFICATIONS
* PTR Certified Tennis Instructor
US PTR No. 4348802
* Top 20 Ranked Player
New England - NTRP 6.2
* Tennis Coach
NTRP 5.0 Massachusetts Teams
* Highly Experienced
20 Years of Tennis Instruction
LESSON FEES
~ OUTDOOR SEASON ~
Lovely Private Clay Court
Lexington MA
(10 mi. from Boston MA)
Tennis Coaching (Private) - $50/hr.
Tennis Coaching (Semi-Private) - $30/hr. ea.
~ INDOOR SEASON ~
DoubleTree Hotel
Bedford MA
(16 mi. from Boston)
Tennis Instruction (Private) - $80/hr.
Tennis Instruction (Semi-Private) - $50/hr. ea.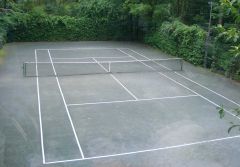 My Lovely Court in Lexington
MY STUDENTS

I've been a Tennis Instructor and Tennis Coach in Boston Massachusetts area for 20 years. Many of my students have been taking lessons continuously from me for many of those years.
My students hail from the following cities and towns in the MetroWest Massachusetts area:
Arlington MA, Arlington Heights, Bedford, Bedford Springs, Belmont, Belmont Hill, Billerica, Boston MA, Burlington, Cambridge MA, Cambridge Port, Carlisle, Carlisle Station, Chelsea, Concord, E. Arlington, E. Boston, E. Cambridge, E. Somerville, E. Watertown, Everett, Lexington, Lincoln, Lynn, Lynnfield, Malden, Malden Fells, Medford, Medford Hillside, Melrose, Melrose Highlands, N. Billerica, N. Cambridge, N. Saugus, N. Waltham, N. Wilmington, Newton, Newton Highlands, Peabody, Reading, Reading Highlands, Revere, Revere Station, Saugus, Somerville, Stoneham, Stoneham Farms, S. Burlington, S. Boston, S. Lincoln, S. Lynnfield, S. Peabody, S. Watertown, Waban, Wakefield, Wakefield Junction, Waltham, Waltham Highlands, Watertown, Wayland, Wellesley, Wellesley Farms, W. Concord, W. Lynn, W. Medford, W. Newton, W. Somerville, W. Wayland, Weston, Weston Station, Wilmington, Winchester, Winchester Highlands, Woburn, and Woburn Highlands Massachusetts.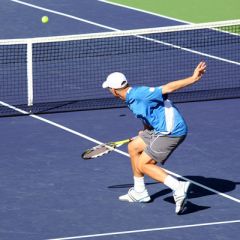 Patient - Professional
Personable - Knowledgeable
_________________________
ADULT LESSONS
Beginner to Advanced
_________________________
EXPERT
Detecting & Correcting Errors
MY METHOD

My students benefit most from a Progressive Teaching method where the strokes are broken down into a simple progression of easy-to-learn steps, with each new step introduced only when the student has assimilated the previous steps.

Initially, students are taught the proper grips and technique on the forehand, backhand, service, and volleys, as well as the proper stances, court positions, and footwork. As students progress, they're taught how to impart topspin and slice to the ball in order to enhance consistency, direction, accuracy, and speed.

The overall objective of the Progressive Teaching method is to teach students how to use their entire bodies to hit the ball. In this way, students learn how to generate controlled power with the greatest ease.

The wonderful benefit of this highly effective approach is that it avoids overwhelming students, keeps them positive, success-oriented, and motivated, and also delivers the most rapid improvement.

For further information on this method, please click the page button above on the left entitled "The Benefits of Certification".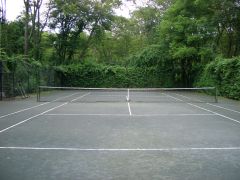 My Lovely Court in Lexington
Proudly Advertised in the

Massachusetts Area